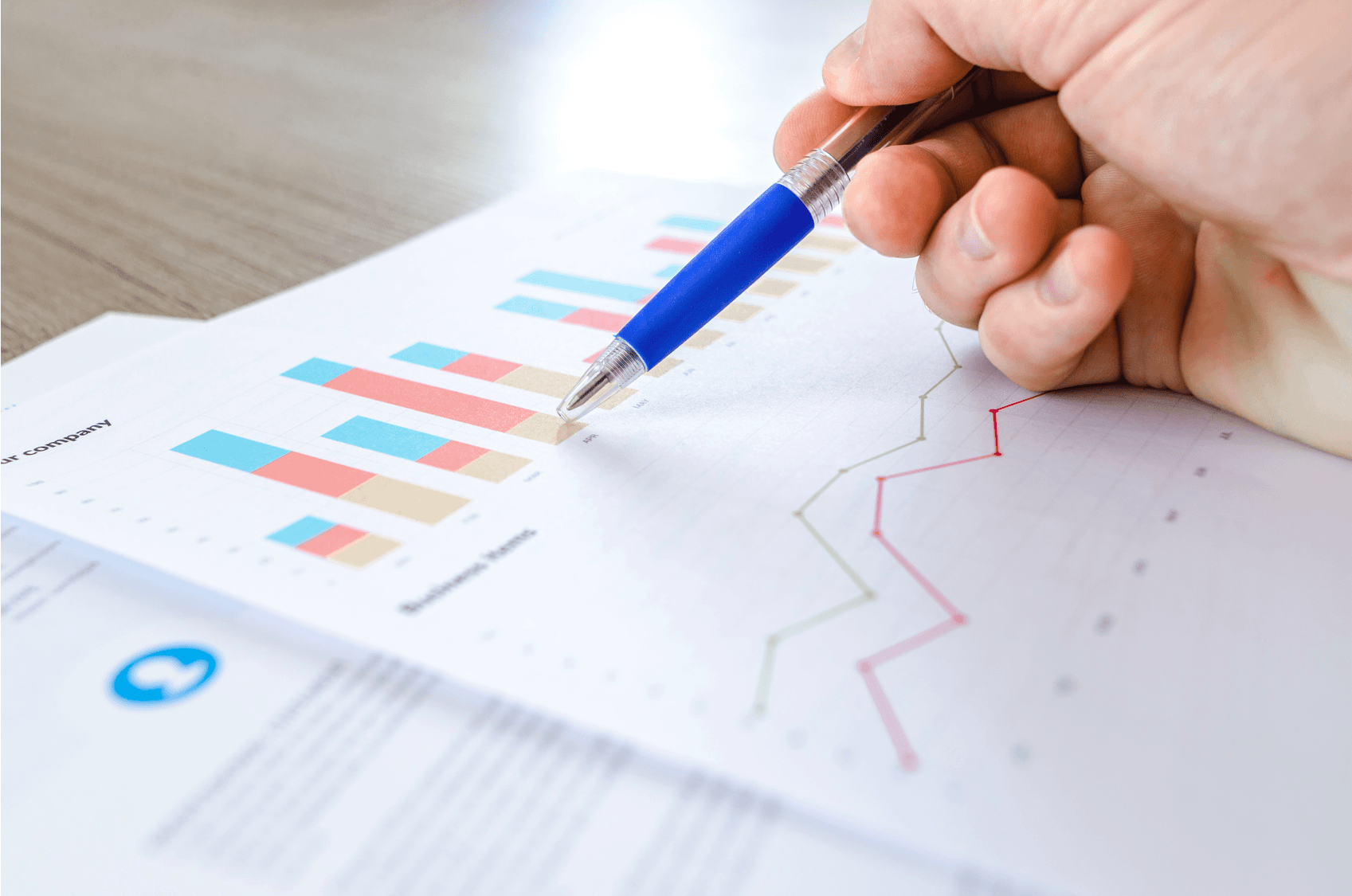 The vacation rental market is increasingly reliant on OTAs, with vacation rental managers focussing its efforts on increasing occupancy rates. This has resulted in the industry not taking a progressive approach to growing guest service revenue.
Similar to the hotel industry, the vacation rental industry offers a plethora of opportunities to increase profits by offering add on services to guests before and during their stay. Service revenue is not shared with OTAs and often not with the underlying property owner, making this an attractive revenue stream for vacation rental managers.
However, selling guests services not only increases revenue but also builds brand loyalty and awareness. Increasingly consumers are choosing alternative accommodation over hotels but this does not necessarily mean that they do not want additional services during their stay.
Today, alternative accommodation is more choice led rather than price-led. Competition is not only inter-industry but also with hotels offering the same price.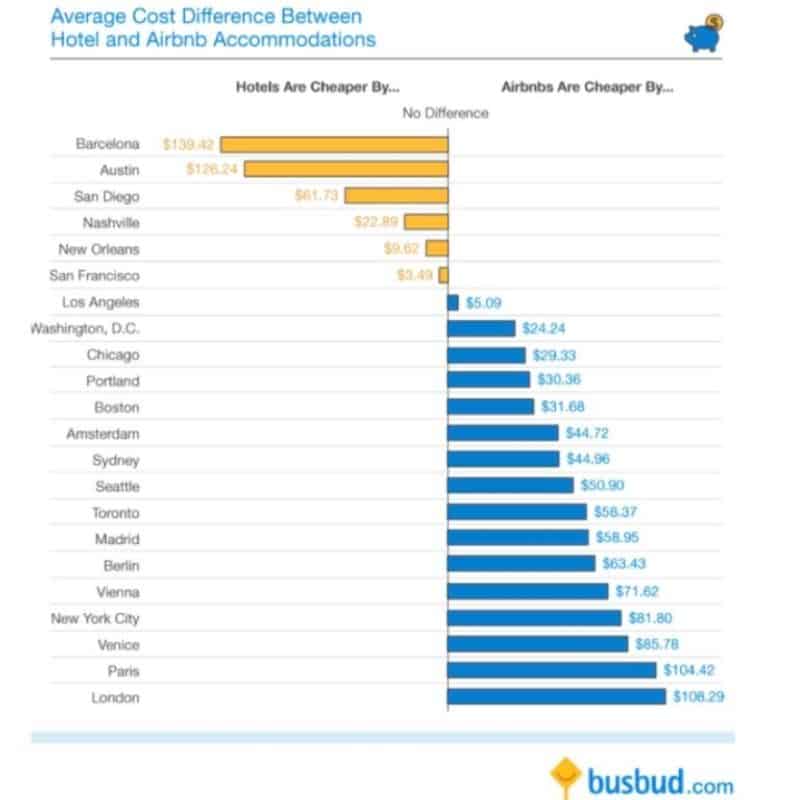 Image source: Busbud 2017
So, how do you increase profits from vacation rental services?
Vacation rental managers do not own the guest journey from booking to departure. The OTAs will control booking and pre-arrival communication and post-stay reviews. The vacation rental manager owns the guest when they are in property and this is their opportunity to up-sell services to guests and increase their review.
An article published by VRMB suggests, apart from accommodation, there are several services guests want during their stay and are happy to pay a premium for. As a property manager/vacation rental owner your biggest challenge is to understand these needs and cater to them accordingly to increase profits.
To effectively monetize your guests during their stay you should segment your guest into different categories and offer the correct services accordingly, is your traveller a business traveller or a family traveller? If your guest is a business traveller, the services they may look for are high-speed internet or access to entertainment services. For family travellers, the requirements are a lot more, a need may arise for cots, pre-stocked food suppliers, baby packs etc. We will deep dive into guest behaviour and requirements in more detail in our next blog post on this topic.
What are the kinds of services you can sell?
Basic services include food and beverage services, late check out's, airport transfers, mini bar and additional cleaning services. Depending on where you are located geographically you can also offer tickets to popular tourist attractions, spa and pool facilities. To showcase innovation, for your guests who are celebrating special occasions you can offer special packages allowing them to purchase champagne, flowers, gift cards etc.
How will selling services offer you an advantage over hotels?
Unlike hotels, a vacation rental owner/property manager is able to take a more nimble approach than the hotel 'blanket approach' of one fits all. Depending on which segment your guest falls into, you can sell services tailored to the individual, increasing the sale conversion rate.
How is this achieved?
As a vacation rental company you have access to your guests at 3 touch points- check-in, during their stay and check out. Leveraging these touchpoints will provide you with a good analysis of your current guests as well build a solid database for your future.
How much revenue will you make?
Using data from across YourWelcome network, we have outlined the gross sale value of popular services offered by our 1,500+ vacation rental managers.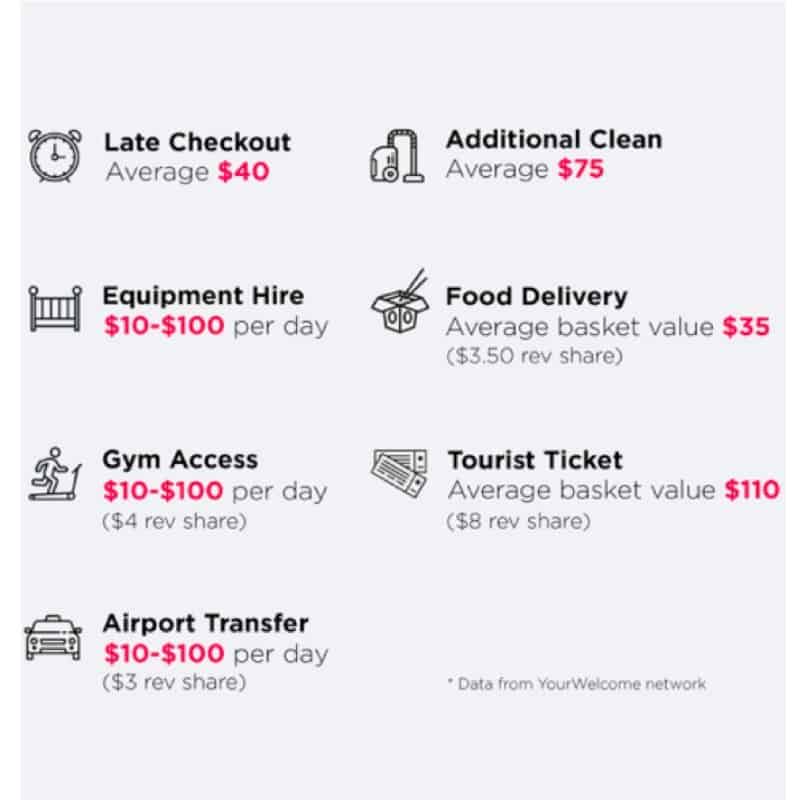 Another big plus point is this will enhance guest experiences. You will be able to develop a personal connect with your guests and strengthen brand loyalty. Check out our previous blog post to know more about the importance of personalisation of services.
To summarise, your guests during their stay are highly engaged and are willing to spend money on experiences and services. As a vacation rental manager providing the right service at the right price will only see sales conversations if the transaction is simple and secure from a guest perspective.
YourWelcome Tablets & Advance products are safe, secure transactional portals enabling operators to effectively sell directly to their guests pre-arrival and during their stay.