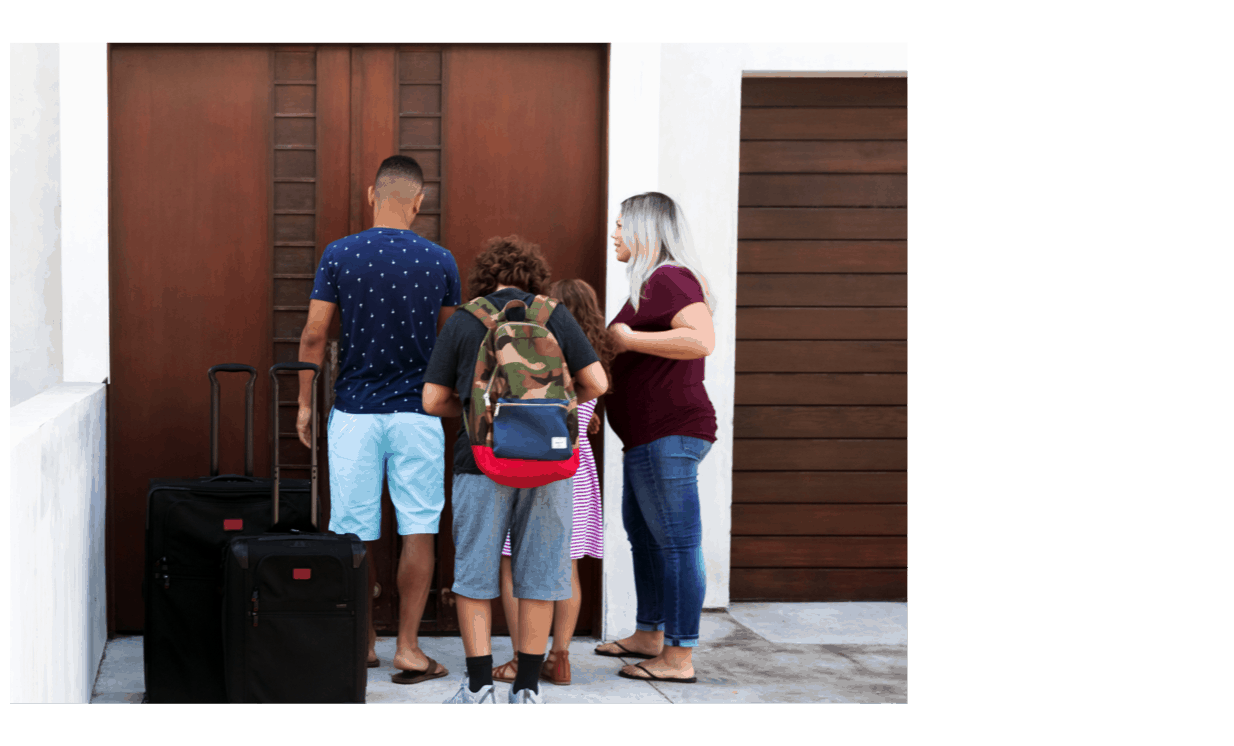 How much time do you spend thinking about the guest departure experience? It is very common for vacation rental managers to pay little attention to this part of the guest journey. The focus is always on pre-arrival comms, guest experience and post stay marketing as once the guest is leaving and has had a good experience there little perceived value in optimising this experience. This article explores why vacation rental managers should pay more attention to the guest departure experience and how it can positively affect future direct booking and learnings from guest stays.
The Vacation Rental Guest Journey
The guest journey can be broken down into the following parts:
a) Booking

This part of the journey is largely dominated by the OTAs and vacation rental managers spend most time optimising the property images, descriptions and of course, the communications. Response times to future booker queries and the quality of information given will affect both the conversion rate and also the visibility of the listing on the OTA. This
article
offers more insight into how to effectively market your properties on OTA platforms.
b) Pre-Arrival

A quality pre-arrival guest experience revolves around the quality of the communication with the guest before they arrive. Guests are highly engaged at this stage as they are likely to be excited about their upcoming booking and also will have questions around accessing the property and the facilities. This part of the journey also offers managers the chance to 'upgrade' the guest stay and make additional revenue from up-selling services like early check in.
YourWelcome Advance
offers a fully automated guest communication tool and more information can be found here.
c) In-Property

This is the core of the business, the real why the guest has taken the trip and property managers in recent years have vastly improved the guest experience. It is important at this stage of the journey to be response to guest queries and to offer quality information about the local area. This stage is also optimal for upselling service and connecting guests to local businesses. There are many ways to do this, ranging from paper guides, text messages and apps. One of the most effective ways to communicate with guests is via a
Point of Sale
installed in property and more info can be found here about the benefits.
d) Guest Departure
As discussed, an often overlooked part of the journey is the guest departure. We explore how to optimise this later in the article.
e) Post Stay Marketing
The direct booking strategy of a vacation rental manager is key to improving profitability as this will reduce the cost of bookings. Vacation rental managers need to ensure that post stay comms and marketing offer value to the guest. Things to consider is what will entice the guests to rebook the property they stayed in or another one under management. The guest CRM plays a key role here and the most successful vacation rental managers will create notes on why guests booked in the first place or any requests they made during their stay. Both of the data points can help tailor post stay marketing comms.
What Should The Guest Departure Experience Include?
The guest departure experience is not simply the guest exiting the property on time and getting the cleaners in to turn around the property. Vacation rental managers should be ensuring quality communication, ensuring guests fill out feedback forms and surveys and potentially offering services to help the guest.
Communication:
The guest will need to be reminded of the departure time and anything they are required to do prior to exit. In the Covid world, many guests are required to bag up bed linen or take the trash out as well as exit on time. In order to achieve good compliance and also ensure goodwill at the final stage of the booking it is essential that communication is concise. Many vacation rental managers use text messages or emails to help with this part of the communication and should be considered if you are not currently using these methods.
Surveys & Reviews:
All property managers struggle to get guests to leave a review of their stay or offer feedback once the guest has left the property. One of the big frustrations for managers is that many reviews focus on one issue during the stay and guests who had a trouble free stay won't leave a good review. The trick to solving this is to engage the guest before they leave the property. The reason for this is that they are still in the property and enjoying the experience so you have a captive audience. Once the guest returns home, you are competing in their inbox with work, marketing emails and spam. It is also essential that property managers do not try and push for survey and review feedback in the last hour before guests leave as usually this is a stressful time. Property managers should engage with guest earlier in stay to try and get feedback to both ensure the rest of the stay is perfect and also to ensure the survey is ultimately filled out.
Encouraging Survey Responses
There are several ways to try and encourage guests to do this before they leave. Many property managers will send email, texts, leave paper reminders and possibly encourage when any in-person contact happens. However, all of these methods are quite intrusive so it is important to get the messaging right. One method is to offer an incentive to the guest (maybe a discount on future booking).
YourWelcome has developed several highly effective tools to promote survey responses and aggregate guest data for assessing NPS. One of the key advantages to installing a YourWelcome Tablet in your vacation rental is that it offers a passive marketing tool and interactive screen for guests to use. These two factors hugely increase the conversion rate of survey response and promote OTA reviews.
First Impressions Rating:
This is one of the key tools that YourWelcome offers to vacation rental managers. When guests first arrive they check in via the Tablets and then are asked to instantly rate the property between 1-5 stars and leave a comment. These ratings are instantly fed back to the guest services team and ensures a) that they are able to respond to any issues and prevent a bad OTA rating and b) offer an insight into how good the cleaning is and whether OTA photos offer an accurate reflection of the reality of the property.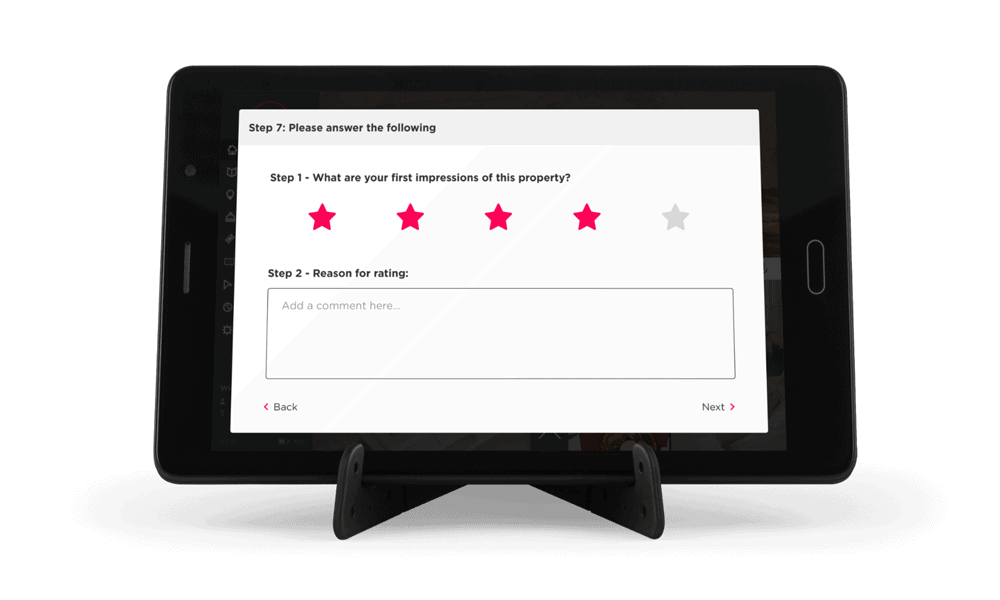 Surveys / NPS:
YourWelcome integrates with mainstream survey software and enables property managers to surface surveys throughout the stay. This empowers managers to find the optimum time to surface a survey (in terms of conversion). The survey responses auto feedback into your preferred software. NPS is fast becoming a key metric for vacation rental managers as they start to measure LTV (life time value) of the customer (guest) and also to improve ratings on OTA. If you are not already utilising NPS in vacation rental business then you should consider starting this season.
OTA Reviews:
OTA reviews are often a source of frustration for vacation rental managers as bad reviews typically dominate if there is an issue during the stay, whilst a guest with no issues is less inclined to leave a review. The YourWelcome Tablets offer a way to promote the benefits of leaving a review on an OTA to the guest. Many guests will know that Covid-19 has affected your business and this is an opportunity to appeal to guests that if they have enjoyed their stay then help you by leaving a review. Successful property managers often follow up with guest with a SMS or email to promote leaving a review on the OTA once the guest has returned home.
If you are interested in finding out how YourWelcome can improve your Guest Departure Experience and increase survey responses then book a demo below.