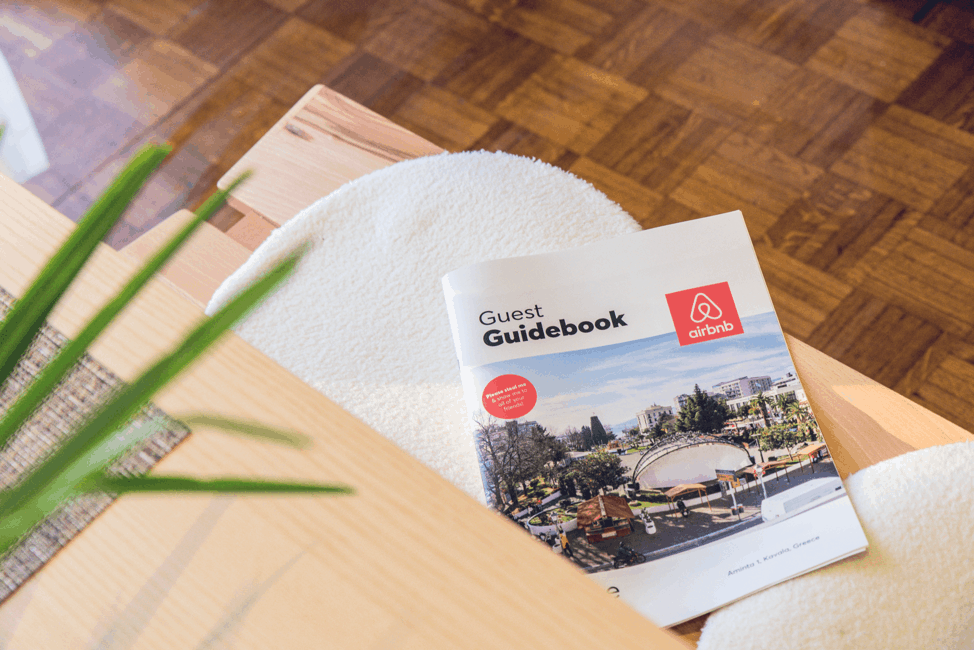 Hosting guests in your Airbnb involves catering to their needs and providing them information about your property. The required instructions and information can be collated into a manual, also known as a Guidebook. A free Airbnb guest guidebook template is super easy to create.Providing your guests with a Airbnb guest guidebook is one of the most important things that you can do as a host. It is the first thing that guests will read on their arrival and is crucial in maximising your guests' experience. Since Airbnb is an experience-driven platform, a well-written Airbnb guidebook is a must. We are going to list the important things that are crucial in a free guest guidebook template.
The best way to write a guidebook is to start with a heartfelt welcome note. It will add an element of fun and give a personal touch to your guidebook. You can start with courtesies, but don't be too formal.  Mention how glad you are to host them and talk about the highlights of your property. Keep it short and crisp.
Your Contact Information:
Next up is your contact information. Your guests might have to contact you during their stay, hence providing them with this information is quite important. Mention two or more contact particulars like your contact number, email address or chat program details (Facebook, Whatsapp, etc.)
Check-in and Check-Out Information:
On many occasions, guests tend to overlook the check-out timing which can lead to many hassles. Mention the timings, both check-in and check-out, on the front page of the manual. Use bold text and reasonable font size so that this information doesn't go unnoticed.
There are many instances where the guests forget about the house rules and end up breaking a rule or two (or more). To prevent such situations, you could dedicate a section of your manual depicting the rules one must follow while renting your space.
Information about your Neighbourhood:
In this section, you can specify crucial things related to your locality. You can recommend restaurants, nearby attractions, the best shopping and transport options. Insights on these topics will help your guests immensely.
Since they are visiting your property for the first time, it is important to specify where everything is and how things work. Mention where you keep all the essentials, amenities and supplies. Write down instructions for using your appliances and electronics.
Your guests might be driving their vehicle to reach your vacation rental, which means they'll need a parking spot. If you have a parking facility available in your property, do mention it in your manual. You will likely have parking listed on your Airbnb listing profile, but mentioning it again in your guidebook won't do any harm.
Wi-Fi, TV and other information:
Mention information regarding your T.V and the streaming services that you offer. If there's Wi-Fi in your place, specify the login details in a separate section so that it doesn't go unnoticed. Write down instructions on how to operate A.C and other electronics available in your vacation rental.
Don't forget to mention the lock codes to your smart locks and keyboard doorknobs so that guests do not get locked out in your absence.
Keep the entire information brief yet concise as people have a low attention span.
YourWelcome tablets allow you to upload 10-second video guides on crucial information about your property. These videos can be shot on your phone and then transferred to the YourWelcome dashboard. To learn more about our products:
Hope you found our Airbnb Guest Guidebook Template useful.