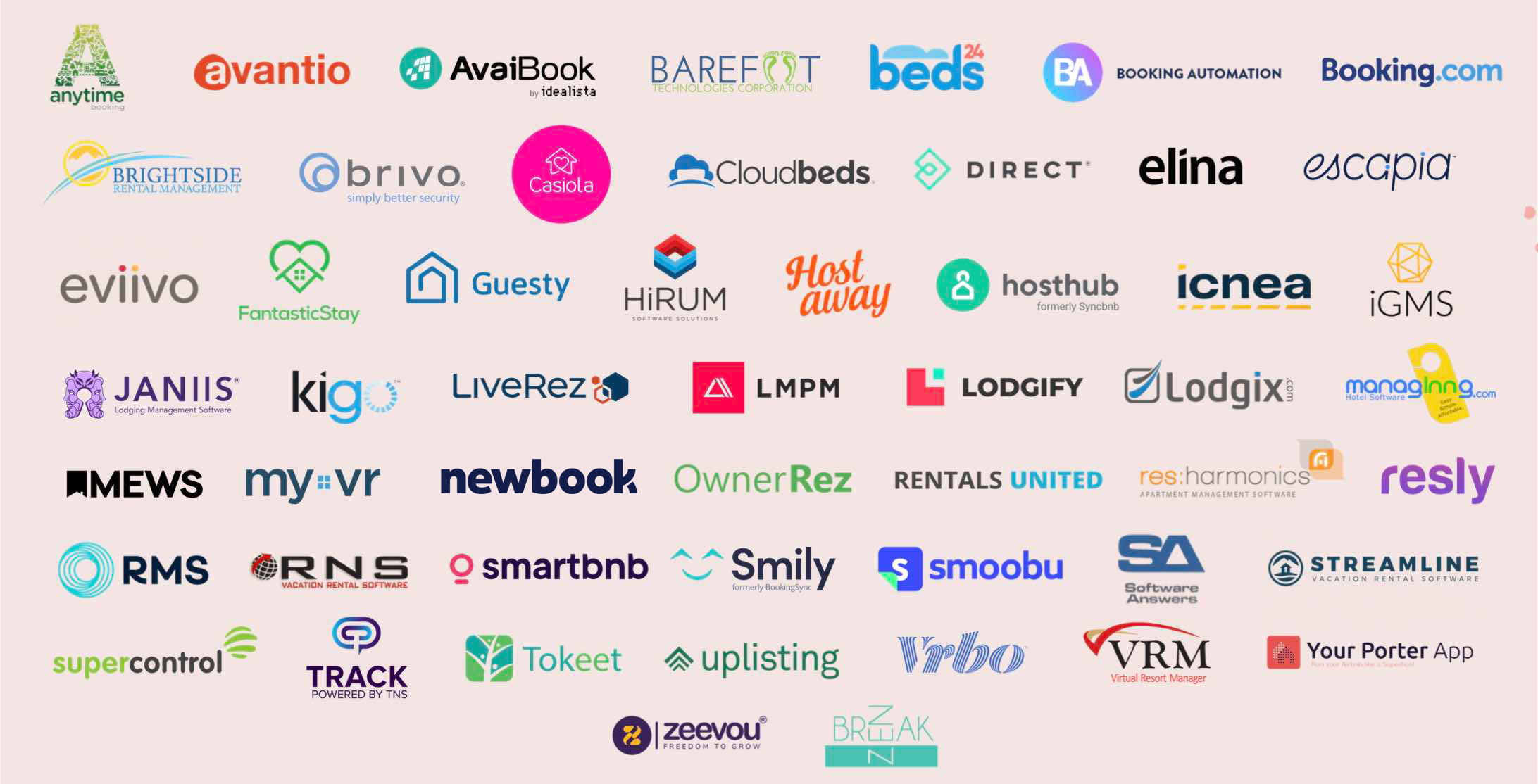 Why is everyone talking about integrations in the Vacation Rental Industry?
Technology integrations are key to streamlining processes for any business. Vacation rental managers juggle a lot of roles and using multiple software solutions that do not integrate leads to poor user experience and ultimately lost time that could be spent on guest experience or growing the property portfolio.
The last few years has seen a huge enhancement of technology across the industry. Gone are the days where property managers are forced to use only one system to run their operation as integrations now empower rental managers to use the best in class in software for each area of their business.
In the early days of vacation rental technology, property managers moved from working on spreadsheets to purpose-built property manager systems (PMS). First Resort Software (FRS) dominated the market for nearly 30 years and was built on DOS. The principles of this software formed the basis of the modern PMS that are used today. Amber Leto writes a great article  about the early days PMS and the evolution to today.
Evolution of Vacation Rental Tech Stack
The industry has evolved at a dizzying pace, most notably with the launch of Airbnb in 2008. This lead to investment in a whole range of software solutions to help ease the friction points of vacation rental managers and Airbnb hosts.
Technology solutions for guest experience, smart locks and dynamic pricing appeared on the market. These solutions such as Beyond Pricing, YourWelcome, August Locks required a way to access the booking information to make the solution user friendly for property managers. Initially this booking information was largely accessed via iCAL links which was sufficient to pass core information between system but offered no way of returning information back or indeed offering a rich data export on a live basis.
PMS have responded to demand for third party services being used alongside their platform by offering API connections. Guesty were one of the first PMS to truly embrace the third-party marketplace feature and saw it as marketing tool to acquire a new generation of property managers. This serves the whole industry well as offering a quality solution for property managers and also enhances the PMS feature set, without the PMS having to sink cost into building and maintaining every feature.
The third-party services are typically charged a fee for PMS integration to access their API which often pushes up the price of third-party services to the end user (ie the property manager).
Which Third Party Solutions Should You Connect To Your PMS?




PMS do a lot of the heavy lifting of running a property management company from accounting to channel management to guest communications. However, it is very rare that a single piece of technology will match to the entire operations of a vacation rental manager. This is the reason why property managers look for third party solutions to run alongside their PMS to optimise their operations. PMS integration makes these third party software tools a key part of the vacation rental tech stack.
Automating guest communication is the single biggest change a property manager can make to their operations to free up time. A good guest communication tool will be able to deal with booking confirmations, advance check-ins, pre-arrival information and aggregating IDs and rental agreements.
Whilst it is likely your PMS will offer a guest communication platform there are often more optimal solutions that offer branded emails, SMS or a unified inbox.
YourWelcome is launching GuestGuides.com in Q4 2022 that will offer a comprehensive pre-arrival toolbox, catering for everything a property manager needs for guest communications. GuestGuides.com integrates with 50+ PMS.
Guest Management / Experience
Guest management / experience is an area that PMS have underinvested in and there are a range of solutions to power this part of property management.
Utilising technology as part of your guest experience strategy is now imperative. Whether you build your own mobile app or use a tool like the YourWelcome Smart Tablet you really do need to ensure that each guest has a personalised experience. This can range from including their name in the welcome message to offering them upgrades and recommendations based on their guest profile. This and much more can be achieved instantly and automatically through API integrations between your PMS and third-party solution.
Cleaning & Maintenance Software
The number one pain point for almost every property manager is managing housekeepers and their schedules. Up until only a couple of years ago there was no bespoke software for this part of a vacation rental company's operation. Things have certainly changed in recent times, however, as 'property care' (the industry term) software is disrupting the vacation rental tech space.
We see many property managers still using spreadsheets, SMS messages and paper checklists, to manage your cleaners. You may even still be doing this. However, with elevated guest hygiene standards due to Covid-19, coupled with the cost-of-living crisis making it hard to retain and recruit cleaners, many companies are turning to property care platforms such as PropertyCare.com.
From automating and assigning cleaning schedules, tracking maintenance costs and offering easy to use in-field mobile apps, any property care software will transform your operation.  However, this automation is practically redundant without an API integration with PMS as it is crucial to understand number of guests and bedroom configuration when briefing cleaning teams.
Over the last few years contactless check-in has become the standard across the Vacation Rental industry. At best, guests find meeting a property manager to gain access to a property is an inconvenience especially in the post Covid world.
You may remember the days of waiting at a property for a guest to arrive, often irked by the fact that their flight had been delayed and you have no idea what time in the middle of the night they will arrive. There was then a shift to keylock boxes. And whilst this did alleviate the issue of waiting for the guest – it heavily reduced the property's security.
Smart locks have changed the guest check-in process forever. Through API integrations with the PMS you can generate a new code for each guest and only share it based on your pre-set requirements, such as deposit having been paid. And most importantly you can automate this whole process. You will even be notified that the guest has arrived. PMS integration makes this process seamless for the guest.
Learn More About YourWelcome
Find out why YourWelcome is the most used digital guest experience product in the market.