Hello. My name is Dany Papineau and I run a blog and online course called AirbnbSecrets that I've created to empower Airbnb Hosts like you. A few years ago, I found myself on the verge of bankruptcy after directing & producing my travel film 2 Frogs in the West. At the time, my credit cards were full, I had no idea what Airbnb was and my home was for sale when my realtor suggested me to list it on this website. Since then, I've generated more than half a million dollars with Airbnb.
Yup, Airbnb changed my life.
But it's been quite the journey to get there and along the way, I've made several costly mistakes that taught me several important lessons about Airbnb hosting and I share them all via AirbnbSecrets. Among them is that Airbnb pricing is a very important aspect of building a successful listing. Over the years, I've talked to several Hosts who were thinking that a full Airbnb calendar equals a higher Airbnb income. At quick glance, it might sound right, but when we dig deeper, it's not quite the case.
Why?
If your Airbnb calendar is filled up, and is still in high demand, you might need to take a look at another reason why this is happening: your Airbnb pricing is most probably too low. Low Airbnb pricing is a great thing for Guests but not so much for Hosts like you who want to make a multiple six-figure income on Airbnb.
Let's analyze this "full calendar" case.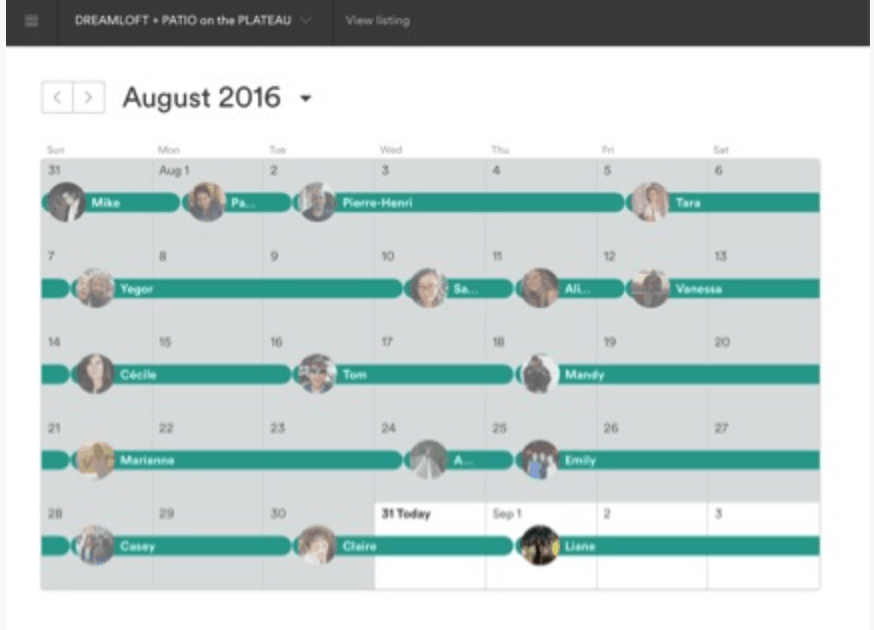 With low Airbnb pricing, you may have been getting a lot of Guests, more so than other listings in the same area, but do you think your listing is earning more than theirs? Probably not. Actually, your earnings for the month might just be the earnings of a wise Airbnb Host for just a couple weeks for a similar listing. In the end, you're actually losing more money by working more than your competitor.
Let's take out your calculator and do some math.
If you are listing your home for $100 a night on Airbnb and it has been booked for 30 days solid, you got $3000 for that month. But what if you experimented with your Airbnb pricing and listed it as $150 per night instead? Perhaps you would have only get book for 25 days. Surprise, surprise! By working less you actually earn more. Instead of $3000, you would get $3750 for that month. Apply this strategy throughout the year and that's $9000 more revenue through Airbnb yearly in your pocket – for just one listing!
Meaning 17% less work equals 25% more money in your bank account!
Sweet, isn't it?
This Airbnb pricing strategy is actually what I've used maximize my Airbnb income over the years.
Interested in my Airbnb Pricing Secrets?
Keep reading.
Airbnb Pricing Secret #1: Discover Your Home's True Market Value in Your Area
To help you with that, I have created a video that will show you how to find out the true market value of your home on Airbnb.
If you already have an Airbnb pricing in mind for your home, compare it with other similar listings in your area. Check out other Airbnb Host's calendars to analyze their booking rate and pricing. Make sure to take note of the differences between their weekday and weekend and holiday rates. From there, you can have a better idea of how much you should list your own home on Airbnb.
And if you ever run into a few listings with full calendars booked ahead of time, either the Hosts have blocked their calendars manually or they could be newbies who have set their Airbnb pricing too low.
Airbnb Pricing Secret #2: If You Are a Newbie Going Against the Veterans, Beat Them With Lower Prices
Great online reviews are social proof that builds trust, leading to more sales.
As a web customer, you'd probably avoid buying an expensive product on the internet if there are no online reviews about it – yet. This is exactly the same with Airbnb. Why would a Guest book a steeply priced home with no reviews when they can book a similar listing from an experienced Host with tons of positive feedback?
While I have just cautioned you about the disadvantages of pricing too low on Airbnb, you actually need to do that as a short-term strategy to kickstart a new listing. Lower Airbnb pricing will bring Guests who are usually on a tight budget and this is the perfect audience if you are a newbie on the lookout for your first Guests.
Once you made at least five low-priced bookings and you start getting a few great reviews, that's the time to start raising your prices. However, this doesn't mean that you should immediately raise it to the true market price; you need to do this gradually so as to keep attracting Guests, and in turn build more positive reviews, as you increase your prices.
The more positive reviews you get, the more you can justify higher prices!
Airbnb Pricing Secret #3: Weekdays Should Have a Different Airbnb Pricing From Weekends and Holidays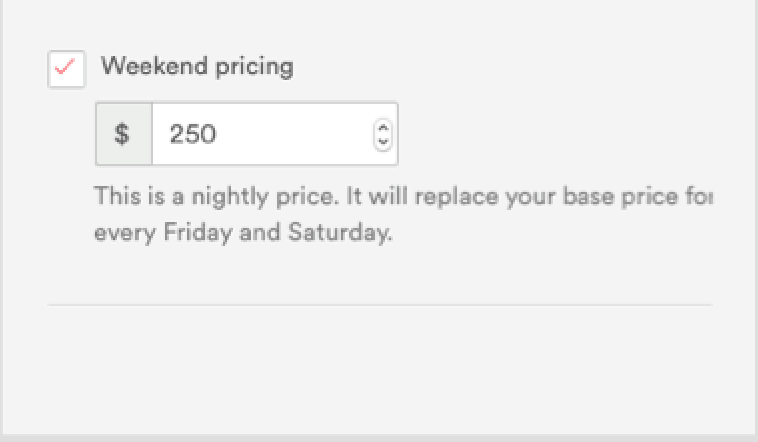 Have you ever slept in a hotel?
As a traveller, you might have noticed that hotels and B&B's tend to be more expensive during the weekends, holidays, and vacation season. This is because short-term rental businesses know that they are guaranteed to get more Guests willing to spend more money during busy periods.
Economics can explain this better through its basic law of supply and demand. The law explains that in a competitive market, in our case the short-term rental industry, the unit price of a specific good or service, like a room at the hotel, will fluctuate until it reaches the point where the quantity demanded (at the current price) will be the same as the quantity supplied (at the current price) and this results in an economic equilibrium for the price and quantity transacted.
Sounds complicated?
This simply means that a higher demand for something that is limited equals higher prices for that item or service.
Summer is around the corner? You should definitely raise your price during the sunny season and holidays. An internationally famous event is happening in your hometown, like the Olympics, concerts, conference like the Airbnb Open, etc.? Raise your prices. It's wintertime and you live by a ski resort? Time to charge peak pricing.
Got it?
Great!
Airbnb Pricing Secret #4: Airbnb's Pricing Tips Are Usually Too Low
When building your listing, you might notice Airbnb helpfully trying to suggest nightly rates for your home. If you are looking to establish a long-term pricing strategy, trust me, ignore that price. If you've done the Airbnb market research I've suggested you to do, you will notice the rates Airbnb is suggesting are actually way lower than what you should price your home. I've created plenty of Airbnb listings over the years – for friends, family and AirbnbSecrets students – and this is one observation I've made. Relying on their Airbnb's price suggestions will make you lose lots of money in the long run.
By lots, I mean tens of thousand of dollars.
In fact, Airbnb's price tip generator should rather be known as "How to Lose Money on in the long run on Airbnb as a Newbie."
Sounds catchy to me.
Airbnb Pricing Secret #5: Airbnb's Smart Pricing Tool Is Not Smart
If you want to lose even more money on Airbnb (without getting a $62,000 Airbnb Tax bill) then start using Airbnb's Smart Pricing Tool.
Am I joking?
Not really.
Time Magazine is claiming that Airbnb Hosts will never have to set their prices again while some Hosts who used it are saying that the tool is actually a disaster.
And I agree with them.
I tried it just earlier this year for one of my listings in preparation for the summer season. For some nights during the peak months of the year, the tool was giving me nightly rates that are actually $100 cheaper than the true market price of my listing. If I had started to use this automated tool without verifying its suggested prices, I would have lost tens of thousands of dollars on Airbnb – just this year.
Insane.
You might ask why Airbnb would use such a low-price automated pricing strategy since they are actually commission-based service. Allow me to be a conspiracy theorist for a second and let's try to find out why this could be happening:
Maybe this so-called "Smart Tool" is still so new that it's in need of major tweaking and fine-tuning – Really?
Or maybe inciting new Hosts to put low prices is just part of Airbnb's long-term growth strategy – To be frank, I wouldn't really be surprised if Airbnb is actually doing this to target newbie Hosts. How, you ask? First of, by using this tool, new Hosts are happy because it becomes very easy to price their home and their low-priced listings are getting them more bookings. Right away, they feel that they are being successful on Airbnb so they will probably stay with Airbnb for a long time. And second, cheaper rates means Guests will book more with Airbnb rather than the expensive hotels. Airbnb knows that Guests also have the potential to become Hosts. Once Guests becomes Hosts of their own, Airbnb also spreads out more and earns more money, on the long-term.
 Am I crazy?
Probably not.
Airbnb is a $30 Billion company investing billions into hiring the most intelligent people who are excellent at forecasting trends so I wouldn't be surprised if they were using such growth strategy. Actually, when you think about it, it's quite a devious strategy but it's brilliant if they are really doing the second one.
My AirbnbSecret Conclusion
To sum it up, you can get the maximum revenue from your Airbnb listing by finding out how much your home is actually worth on the Airbnb market and then experiment with your Airbnb pricing all throughout the year.
If your listing's average occupancy rate is more than 90% for the last few months, chances are your Airbnb pricing is lower than what it should be, so think about raising your prices. The opposite holds true; if your occupancy rate for the past few months is less than 80%, think about lowering your prices. Play around with your Airbnb pricing until you notice when is the best time to raise or lower your rates based on the demand for it.
For me, being 50% booked one month ahead of time means that I've placed the best price for the listing, since plenty of Guests make last-minute bookings and they are willing to pay higher as long as they get a nice place with great reviews.
To learn more useful Airbnb hosting tips, click here to register to my email list.
See you around 🙂