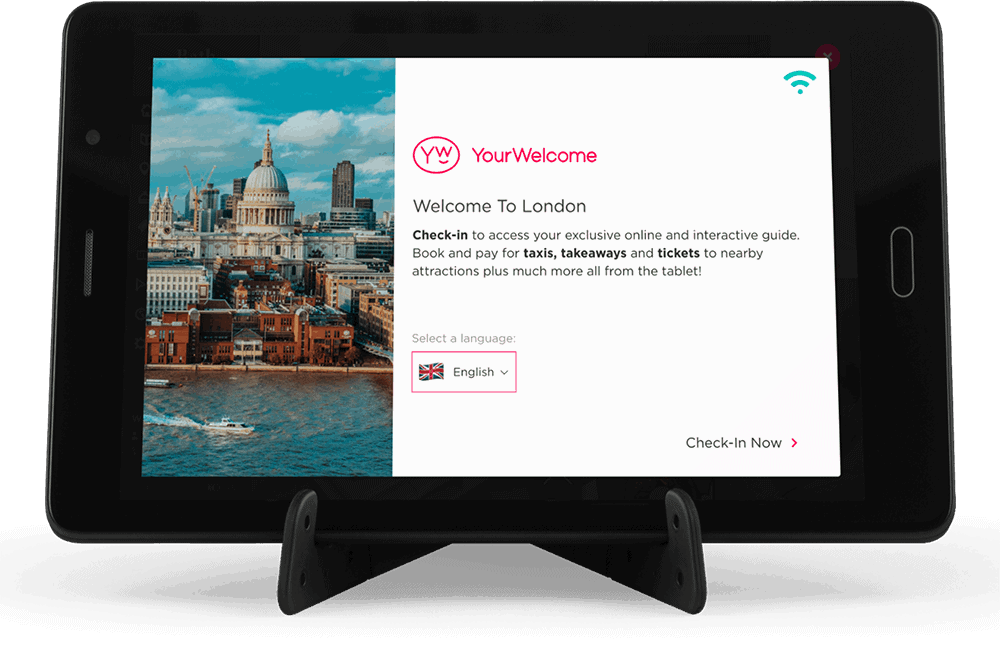 Offering a digital guest app, web app or tablet has become a key part of any vacation rental operators tech stack. The days of greeting guests with a welcome book are long in the past with guest preferring a digital experience. There a number of different guest experience products on the market including YourWelcome, Touch Stay, Hostfully and HelloHere. This article explores the feature sets that any digital guest experience product should have and how to work out what solution is best for your business.
What should a digital guest experience platform offer?
Digital guest experience products have been in the market for many years and have changed in line with guest behaviour. When mobile apps were first invented, the trend for native apps like HelloHere and then the market moved to web based solutions like Touch Stay and now we see products that offer both web products but also hardware to distribute the content to the guests. Whichever product you select, these features should be included.
a) Property Guides

This is the key feature for any digital guest experience platform. All property managers need to convey key information to the guest about the property to reduce phone calls from guests.
On the most basic level, your digital guide will offer text and image property guides but most products will include video property guides. Offering video guides is increasingly important as guests are reticent to read long instructional guides on how to use utilities such as hot tubs.
b) Local Area Guides & Recommendations

The digital guide should offer guests local area guides and recommendations of restaurants, bars and tourist attractions. Some guides make this a self service option or others like YourWelcome comes pre-populated with local content, reducing the set up time for property managers.
c) Company Branding
All digital guide platforms, including Touch Stay and Hostfully will offer the ability to brand the guest experience. This usually includes logos, company colours and banners on the app, website or tablet device.
d) Up-Selling Services
All digital guides should include the ability for property managers to up-sell services such as late check outs or equipment hire. This is one of the primary benefits of digitising the guest experience journey. Property managers should also expect functionality to upload affiliate links to their partners for services such as boat hire or tourist tickets.
PMS Integrations: Touch Stay / YourWelcome / Hostfully / HelloHere
Put simply, if the guest experience platform does not integrate with your PMS system then it is likely it will hugely increase admin for the property manager. No integration means the property managers will have to manually input reservation details and manually send the guides to the guest – a administrative task that no-one wants.
Touch Stay

PMS Integrations
YourWelcome

PMS Integrations
Hostfully

PMS Integrations
HelloHere

PMS Integrations
YourWelcome | Additional Features vs Hostfully, Touch Stay & HelloHere
YourWelcome is the most used digital guest product on the market with over 15,000 properties installing Tablets for their guests. Below are some of the features that sets YourWelcome apart from the other digital guest products on the market.
Guaranteed Guest Engagement
Unlike Touch Stay, Hostfully and HelloHere, YourWelcome is a physical product that is left in property for guests. On arrival guests check-in via the tablet and access all the property information via the product. The reason? If you have a digital only product you still have to leave a paper guide as a percentage of guests will not engage. 
YourWelcome comes with a fully customisable check-in for guests. This enables property managers to aggregate additional information from guests, including the contact details on non-paying guests.
Out-of-the-box YourWelcome comes packed with local on-demand partners offering food delivery, tourist tickets and more. This means property managers do not need to do the work to offer these types of deals to their guests and can make additional service revenue from day one.
Learn More About YourWelcome
Find out why YourWelcome is the most used digital guest experience product in the market.