Following our whistle-stop trip to Berlin to visit the ITB Travel Trade show last week, today the YourWelcome team jetted off to Amsterdam to exhibit at the coveted VRMA conference in Amserdam. 
 The event began with exhibitors showcasing the latest industry travel products and tools at the VRMA Opening Night, hosted inside the Marriott Hotel. Over 300 seasoned Vacation Rental owners descended on the sponsor's area to network with other insiders and learn about the latest trends. Welcome drinks were kindly sponsored by Trip Advisor, another prominent exhibitor at the event.
 After the Welcome evening ended, HomeAway hosted a networking and drinks event at a nearby city bar where sponsor's and rental providers could discuss their experiences.
Holiday Rental Manager Panel: Designing the Guest Experience
Moderated by: Erik Bordier from RENTeGo
Speakers:
Michele Diamantini – Vacasa
Bernd Mückenschnabel – Novasol
Thijs Van Oss – Interhome
Tobias Wann – Leisure Group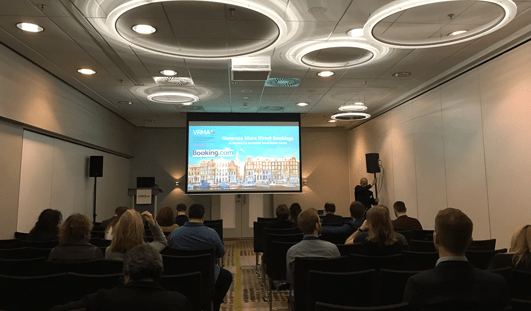 The talk began with discussing guest experience and what it means to each company. Michele from Vacasa noted that the guest experiment begins with the search for a property, so the quality of images is an inspiration. This starts before booking and then uses local people to deliver a high quality local experience.
Tobias from Leisure Group added that empowering employees to be ambassadors for the company helps with the guest experience. This then lead to a discussion around whether OTAs and portals can drive customer experience. Everyone agreed that the personal touch helps to improve guest experience.
Feedback loop takes a couple of favours, one is guest rating & feedback, employees on the ground and talking to the guest. Thijs from Interhome mentioned that they place customers at the centre of the experience, Trustpilot central to the experience, 24 hour call centres that have over 200 local officers who deal with questions on the ground. A compliant is an opportunity to do better next time around.
Bernd from Novasol visits every property they manage before they take it on, which is crucial as OTA listings don't do this. They constantly ask what they can do better to improve experience so the guests start to offer views on their ideal holiday home experience.
The question of how technology is changing guest experience was mentioned. Thijs explained how tech offers ability to give a more tailored made service i.e. based on your profile: their recommendations are more appropriate to the individual. However, he noted that tech shouldn't go too far as it takes away from guest experience, where human interaction is key.
Tobias rightly mentioned that any company to survive at scale in vacation rentals requires quality tech, but driven by humans.
Artificial Intelligence
There were discussions on how much of a focus is this going forward for everyone. Guest behavior is constantly changing which is a challenge for the industry – but the reaction within the VR industry is mixed. The centre of VR is people – it is the key weeks of the family so we cannot gamble of the quality of those exercises and cannot gamble on not having a human to speak to. Currently AI is only offering learning currently, not solutions but will get there.
Following on from this, Thibault Masson from booking.com gave a valuable talk on how to generate more direct bookings through social media. He identified ways to collect emails through the creation of a 'lead page'. Rather than being redirected to the business's website, social media posts should direct guests to a dedicated page that will ask them to enter in their email. This can then be used for remarketing.
The social media posts containing the lead page link should offer the guests valuable information about the environment the property is situated in, and also the area. An example of this would be a guide on 'Top 10 Places to take the family in Bali'. On the lead page, guests will then be invited to enter their email to access this information.
Each post, Masson goes on to say, should contain a 'lead magnet', which is the link back to the lead page. With instagram, Masson recommends adding this to the company bio.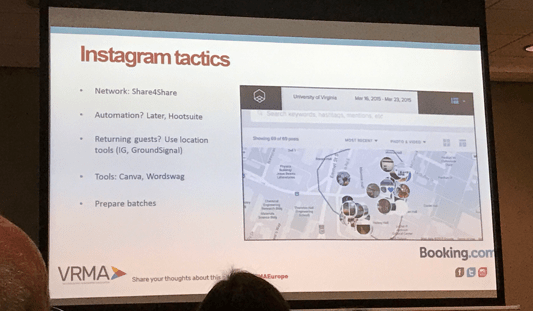 On Facebook, providers can use the Facebook Leads tool that will allow hosts to target market to website visitors and previous guests. Masson recommended using Mailchimp to streamline communication and compile email lists that can be used again in social media campaigns.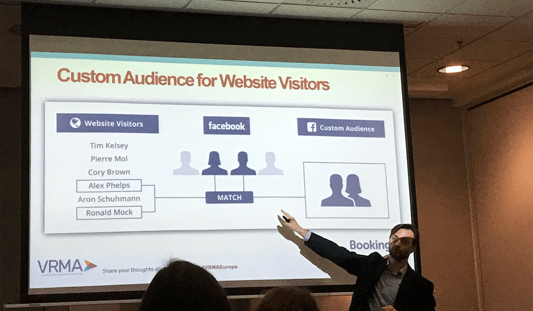 Session: Holiday Rental Technology Trends
Talk by Vanessa de Souza
She identified 4 main points that hosts commonly face:
Checkins
Solving guest screenings
Dated welcome books
Cleaning and Laundry
Vanessa went on to discuss the key providers in all 4 areas, including sponsors at the event. She emphasised the value of integrating technology solutions into rental properties and the need to research the tools and services out on the market to be utilised.
Curating an Exceptional Guest Experience
Matthew Hoffman – Vice President, Kigo (http://kigo.net)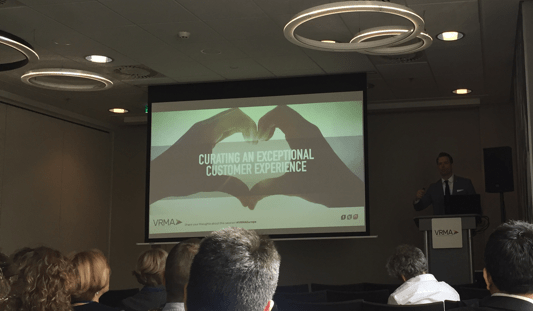 Matthew began with a brief history on the vacation rental experience. In 2007, 1/10 bookings came from a listing channel (e.g. HomeAway). In 2017, we now see up to 80% of bookings coming through this medium. Converge of options through OTA, hotels, villas and airbnbs – travellers have more options and info in one place.
To Book or Not to Book?
Ensuring the customer knows upfront what they are booking and what they can expect is a key part of ensuing the customer experience is good. Mobile responsive websites are key to having a chance of taking direct bookings in this space.
Curating an Exceptional Customer Experience Starts with Trust: First time bookers have concerns, does this place really exist? Does the experience match the photos? The industry needs to ensure that the consumers trust the providers. Cleanliness and security are the two biggest concerns for bookers.
There is still an issue of having to answer questions before a customer books.
Communication is a key element of the industry. There will be less phone calls and more text / email communication and will ultimately be automated as most questions are the same. Timing of response is crucial: when an enquiry to book the apartment comes, it needs to be quicker. Matthew noted that over 50% of communication through Kigo is over 48 hours. Realistically, 6-8 hours is too long. Luxury properties is one of the key areas that have slow response times and owners want more info from property managers and won't give exclusivity. Matthew makes a crucial point that the majority of communication with guest is pre booking but tails off post booking and post stay. This needs to be reversed if owners and managers are going to be able to move customers to direct bookings.
Pre-Stay Guest Verification – key for managers as winning charge backs from credit cards is challenging. Getting a physical signature helps protect this. Also, try and get one bit of non public ID – i.e. a photo of drivers license – this all helps via remarketing to guest and asking questions of the guests makes you look much more professional.
70% of Property Management Companies in the US now using some form of remote automatic lock.
Less than 30% of Property Management Companies do a mid-stay check in with the guest.