Automating guest communication is one of the first areas of operations that property managers look to automate. Whether it's pre-arrival check-in instructions, an in-stay check up or the, often overlooked, post-departure remarketing message, it goes without saying that guest communication is one of the most important aspects of any short-term rental business. Arguably, it's also the most resource intensive aspect of your operation.
Irrespective of whether you simply rent your second home through Airbnb or you manage hundreds of properties across numerous geographical locations, the benefits of automating your guest communication remain the same.
Streamline Your Operation
Enhance Guest Experience
Upsell Services
Drive Repeat and Direct Bookings
Streamline Your Operations
Whilst we have covered the importance of guest communication in the success of your business, it's essential not to forget that all the other parts of your operation that are really driving your business forward.
By automating your guest communication, you are minimising the resource needed, therefore, allowing you and your staff to focus on your other key business objectives. A client of ours recently moved from manual to automated guest communication. At the time they had 30 units and were growing at a steady rate of 1 unit a month. In the six months since they moved to automated communication, they've had the opportunity to re-shift their staff priorities and have acquired a further 19 properties, over a 200% increase on their forecasted amount.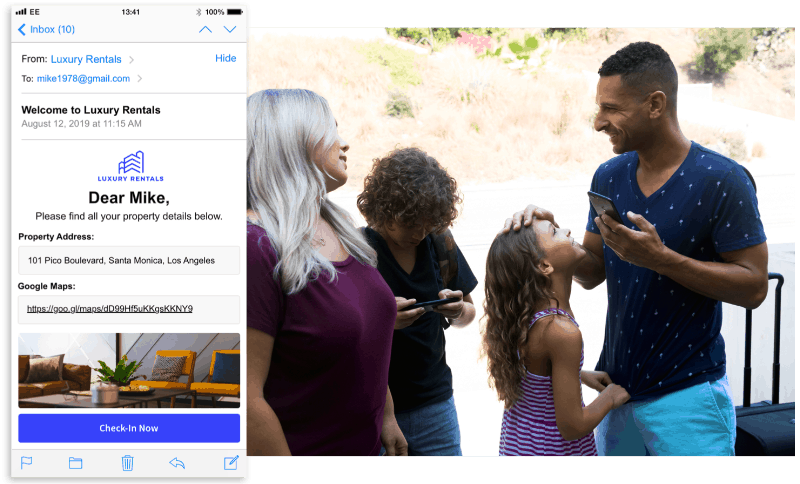 The expectations of guests in short-term rentals have never been higher. Even with the simplest set up, you likely have at least 5 touchpoints with the guest between them making a booking and arriving at the property.
Your pre-arrival communication may look something like this:
Booking Confirmation
Full Payment Request
Rental Agreement & Pre-arrival Check In
Upsell Services
Property Access Information
Ultimately, automating your guest communication will minimise the risk of human error which could significantly impact the guest's experience. However, using an intelligent platform such as YourWelcome Advance allows you to take this one step further and implement triggers, delays and fully customise the communication for that specific guest.
The YourWelcome Smart Tablet is the first and only in-property POS system for short term rentals. Therefore, we work closely with our 1,500+ clients to ensure that they are maximising their revenue through upselling services and advise on best practice through our data.
There has been a shift across the industry over the last 18 months. Most short-term rental companies have implemented a service revenue stream into their business. However, simply offering services, such as late check-outs and mid-stay cleans, isn't enough. To truly maximise your conversions, it's extremely important to ensure you're communicating these upsells to you guest at the most relevant time.
For example, we know that the best time to offer a late checkout is 48 hours before the guest is due to leave. Automating your guest communication using a platform such as YourWelcome Advance ensures that you're offering services at the most successful point during the guests stay.
Drive Repeat and Direct Bookings
Remarketing can often be overlooked in the industry. Whilst it is true that there will always be some guests that don't have the need or inclination to stay with you more than once, you are likely missing opportunities from repeat guests by not actively engaging with them.
Your current bookings will, naturally, take priority when it comes to guest communication which is why automation works so well. As a minimum you should be reaching out to your guests at least once after they've finished their stay to promote direct bookings. The most successful way to do this is to simply schedule automatic emails to go out at sporadic intervals after their stay, potentially offering them a discount, to ensure your company remains top of their mind when they are looking to book their next break.
Fully automate your guest communication with YourWelcome Advance.
Features
Automate guest messages
Fully brandable
Advance check in

ID verification
Rental agreements
Unmask real email addresses

Upsell pre-arrival services
Integrates with your PMS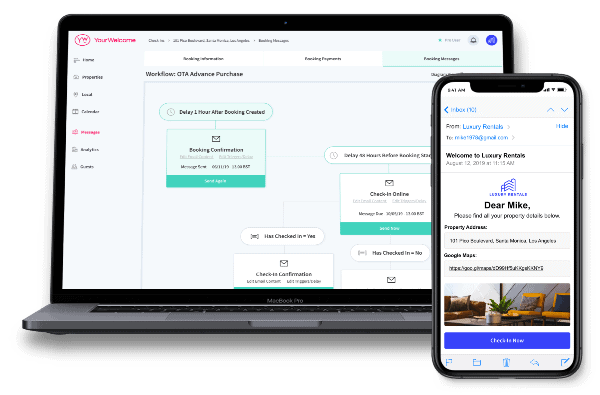 Fill in the form below to learn how YourWelcome Advance can automate your guest messages.