Introducing
Pre-Arrival Check-In & Guest Verification
YourWelcome Advance automates pre-arrival guest check-in and guest verification. Capture guests full contact details and arrival time, verify their identification and up-sell services before your guest arrives. No more time-consuming WhatsApp messages, email and phone calls.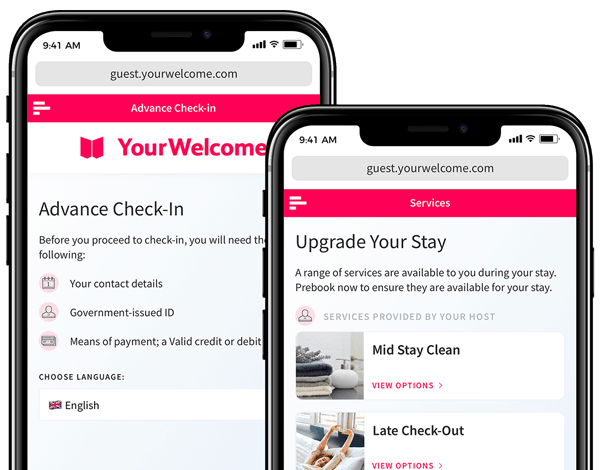 YOURWELCOME ADVANCE FEATURES

Grow Your Direct Bookings:
Capture REAL guest emails
Add non-paying guests to your CRM
Ensure guests sign up to future direct marketing

Pre-auth the guest card for extras
Up-sell pre-arrival services (early check-in)
Offer third party services (airport transfers)

Capture guest ID (eg Passport)
Ensures GDPR compliance

Receive up-to-date arrival time
Release door access codes
1. Guest books accommodation (direct or via OTA)
2. Booking is added to PMS (property management system)
3. Booking is integrated with YourWelcome (either automatically or manually)
4. Check-in Email/Text is sent to guest 2 weeks prior to arrival
5. Guest checks in via YourWelcome Advance
6. Check-in details available in YourWelcome portal or synced back to PMS
7. Guest details are synced to YourWelcome tablet for guest arrival
Automate Your Operations
Reduce your time and workload by automating all pre-arrival guest communication. Ensure all comms are through one channel and easily tracked.
Verify Direct Bookings
OTA guest bookings come with a level of verification but Direct Booking require you to self-verify. YourWelcome Advance empowers you to capture guest ID prior to their arrival for peace of mind.
Make More Money 
Add a new revenue stream by enabling guests to book a range of pre-arrival upgrades and services. Early Check-Ins, Car Hire and Airport transfers enables you to make more money from every reservation.
GDPR Compliant
Guests from the EU have additional rights and protection when it comes to storage and usage of their data. YourWelcome Advance is fully GDPR compliant tool that ensures you are able to process all guests data into your CRM and market to them post stay,